WHY A CYCLONE BACKWATER VALVE?
---
Basement flooding is typically caused by heavy rains, melting snow or damaged pipes. But the most damaging and annoying reason for basement flooding is sewer backup. This happens when sewage from sewer lines, for some reason, can't flow naturally into the sewer and begin to flow back or back up into your house. Sewer water is dirty, foul-smelling and teeming with all sorts of harmful microorganisms. Sewer backups will not only damage your property but also put to risk your health and your family's safety.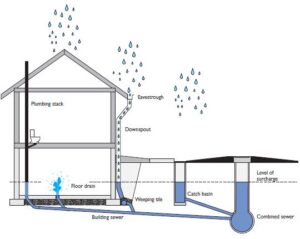 Cyclone Valves play a crucial role in protecting your basement from flooding. Cyclone Valve allows any excess water to be blocked off so there is minimum damage. The backwater problem has become so common that many cities and suburbs offer a Basement Flooding Protection Subsidy Program. This program will help citizens protect their families and property from flood damage.
Frequently Asked Questions about Cyclone Valves
Do city Plumbing Codes require a backwater valve?

Yes/No  Section 175 of the UPC Plumbing Code is dedicated to backwater valves on sanitary sewage drainage systems. If your home was constructed before the UPC Plumbing Code required a backflow preventer, then you are not required to retrofit your home to install one.

What should I check to see if a Cyclone Valve is needed?

Check to see if plumbing fixtures are lower than the street in front of your home and/or for a steep uphill street outside your home.

Who is responsible for the installation and maintenance of Cyclone Valves?

The property owners.

How often should I check the Cyclone Valve and what does it entail?

You should check and maintain the valve at least once a year. Flush the mechanism and surrounding pipe with a hose during maintenance to clear any accumulated debris from the area.

Can Cyclone Valves be used as a cleanout?

Yes! Unlike traditional flapper type valves , all you need to do is remove the ball before snaking the sewer line.

Do I need a permit for a Cyclone valve?

Yes/No. Some cities require a plumbing permit for a basement floor installation.

Where can I buy a Cyclone Valve?

Cyclone Valves are sold through our web site, Amazon, Ebay, plumbing supply warehouses and home improvement stores.