New and old homeowners are facing a new requirement of home insurance. A back water valve device helps keep basements safe from backed up sewer water. Installation of a backwater valve has led to regional rebates to encourage home owners to invest in their home's safety. Basement flooding is a growing problem in the USA. Massive floods in May of 2013 caused over a billion dollars in property damage. Homeowners who had flood damage are eligible for disaster assistance from there states. However, this rise in claims has made the installation of back water valves, sump pumps, and alike necessary to get home insurance. Over 70% of Americans falsely believe that their home insurance covers what is called "overland flooding" in the business. The truth is insurance companies in USA don't offer flood insurance in the traditional sense. There is coverage for basement flooding, but is often left up to discretion of the insurance agency. Accidental flooding such as overflowing washing machines and broken pipes is covered in most policies. However, the purchase of flood insurance is an extra expense if it is offered at all. It is important that home owners understand that the state of repair of the home is in plays an important role in insurance premiums. A neglected basement or any other part of a home will affect how much a company will help. Existing damage is the responsibility of the home owner.
New Home Owners
For new or first time home owners, it is very important a back water valve is installed. In many places throughout USA a home owner cannot receive insurance until the device is installed. However, the rebate programs offered in many cities make it clear that the program is for existing properties not new builds. The best reason to add this feature would be to increase the value of the property and make the best deal with the insurance company.
Existing Home Owners
Some states have made an effort to reward current home owners for improving their homes. The most noticeable is the preventive plumbing measures. Cities all over USA have established their own rebate programs for the installation of back water valves and sump pumps. These rebates have conditions for the home owner to get money back. Although the process is lengthy and red taped wrapped; the effort to get the rebate is certainly worth the hoops.
All Home Owners and Insurance
Bottom line the installation of back water valves are good karma for all home owners. The more preventive measures added to a home, then the fairer the premiums. Insurance companies reward responsible behaviour. The back water valve is a necessary part of home building and expected in all other structures. It is important that a home owner completely understand their insurance policy. Here are some other tips to get the best premium: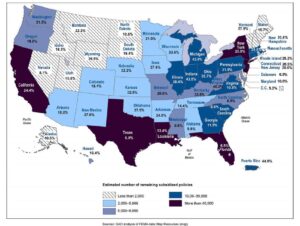 Here are some other tips to get the best premium:
Ask questions and make sure everything is clear.
Keep records of all improvements and up-date policies with the insurance agency.
Keep an inventory of the contents of the home.
Report any damage to the insurance company immediately.